Trapezoidal sheet roofing
With a modern aesthetic, trapezoidal sheet roofs have now been around for several decades. Steel sheet in different shapes can also be arched for rounded roofs. Dome Solar photovoltaic mounting systems can be adapted to trapezium-shaped corrugated steel deck fitted on flat roofs.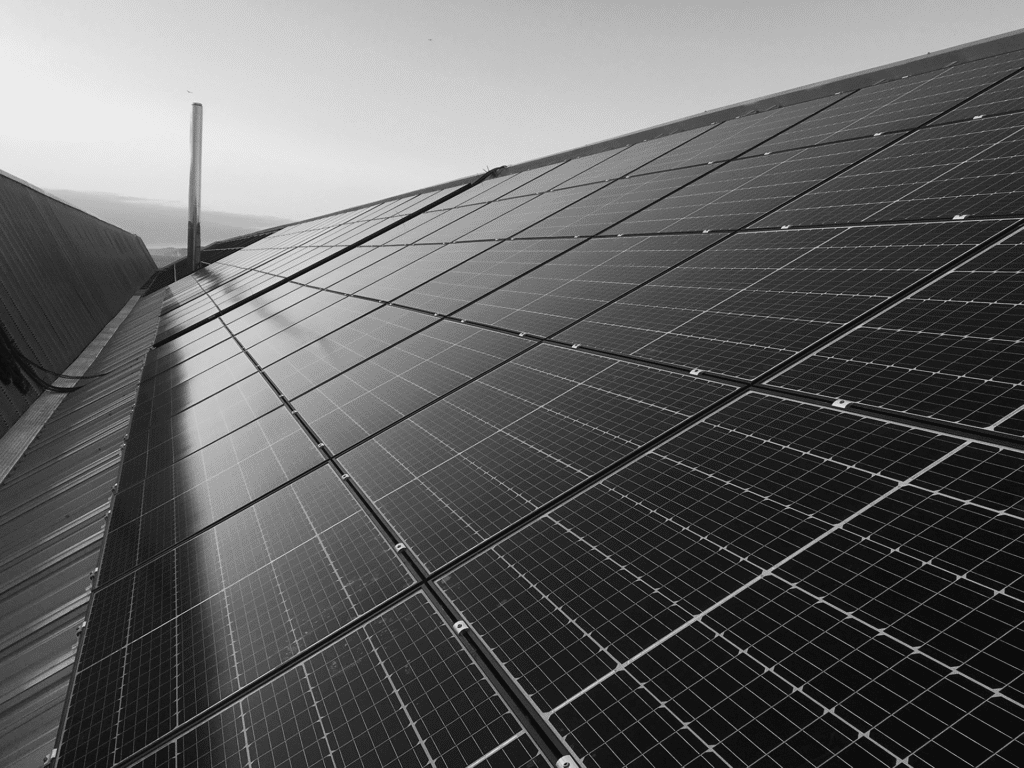 SOLIDITY AND LIGHTNESS – CHOOSE TRAPEZOIDAL SHEET FOR AN ECONOMIC AND RESISTANT ROOF
Waterproof, and with a very fast rainwater run-off, steel sheet is also very resistant to fungus and moss. Steel is also known for its robustness. Rated M0 (non-combustible) for fire-resistance, there is zero risk of fire. Finally, steel deck is light due to its thickness and retains significant strength.
Depending on the model chosen, various options will be available for covering trapezoidal sheet roofs: a wide range of colours, perforation options, etc.
Steel sheet is very easy to handle due to its thickness and lightness (approx. 5 kg/m²). This reduces the effort required. The sheets overlap lengthwise and crosswise and are then joined together. This work must of course be carried out by a professional who is familiar with the manufacturer's instructions on the model chosen.
Dome Solar photovoltaic panel mounting systems can be adapted to a wide range of steel roof deck from leading manufacturers: BACACIER, TATA STEEL – MONOPANEL, ARCELORMITTAL CONSTRUCTION, etc.They come in different lengths and can be custom-made.
INSTALLING SOLAR PANELS ON A TRAPEZOIDAL SHEET ROOF
Dome Solar offers two types of application: fixing into the building's purlins (Ital-Solar, Helios B², Kogysun +) or fixing into the steel deck (EB-Solar, RB-Solar). In both cases, as soon as rails are fixed to the roof, External Clamps and then Universal Clamps are clipped on and photovoltaic panels can be installed.
PV MOUNTING sytems FOR UNINSULATED ROOF DECK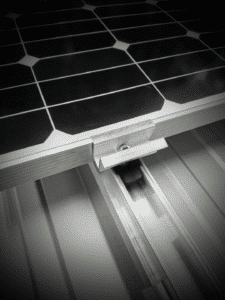 KOGYSUN +
The most robust ATec-certified photovoltaic mounting system.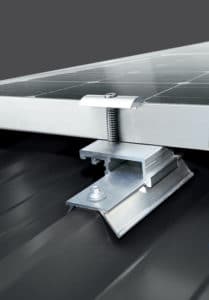 EB-SOLAR
The economical but solid photovoltaic mounting system.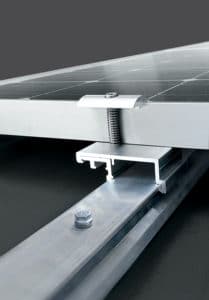 ITAL-SOLAR
A photovoltaic mounting system fixed into the purlins – the most frequently installed in Europe.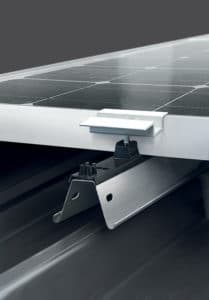 HELIOS B²
The best-selling ATec-certified photovoltaic mounting system in France.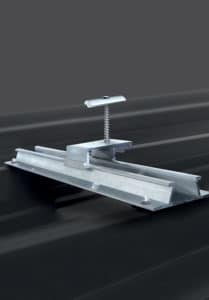 RB-SOLAR
Photovoltaic mounting system for installation in portrait mode