A number of advantages make the TPO membrane one of the best solutions for waterproofing flat roofs of eco-responsible buildings. The energy balance of the building is therefore retained due to the light colour of TPO, its long service life and its excellent resistance to ultraviolet radiation and ozone. TPO flat roofs are also highly resistant to bacteria!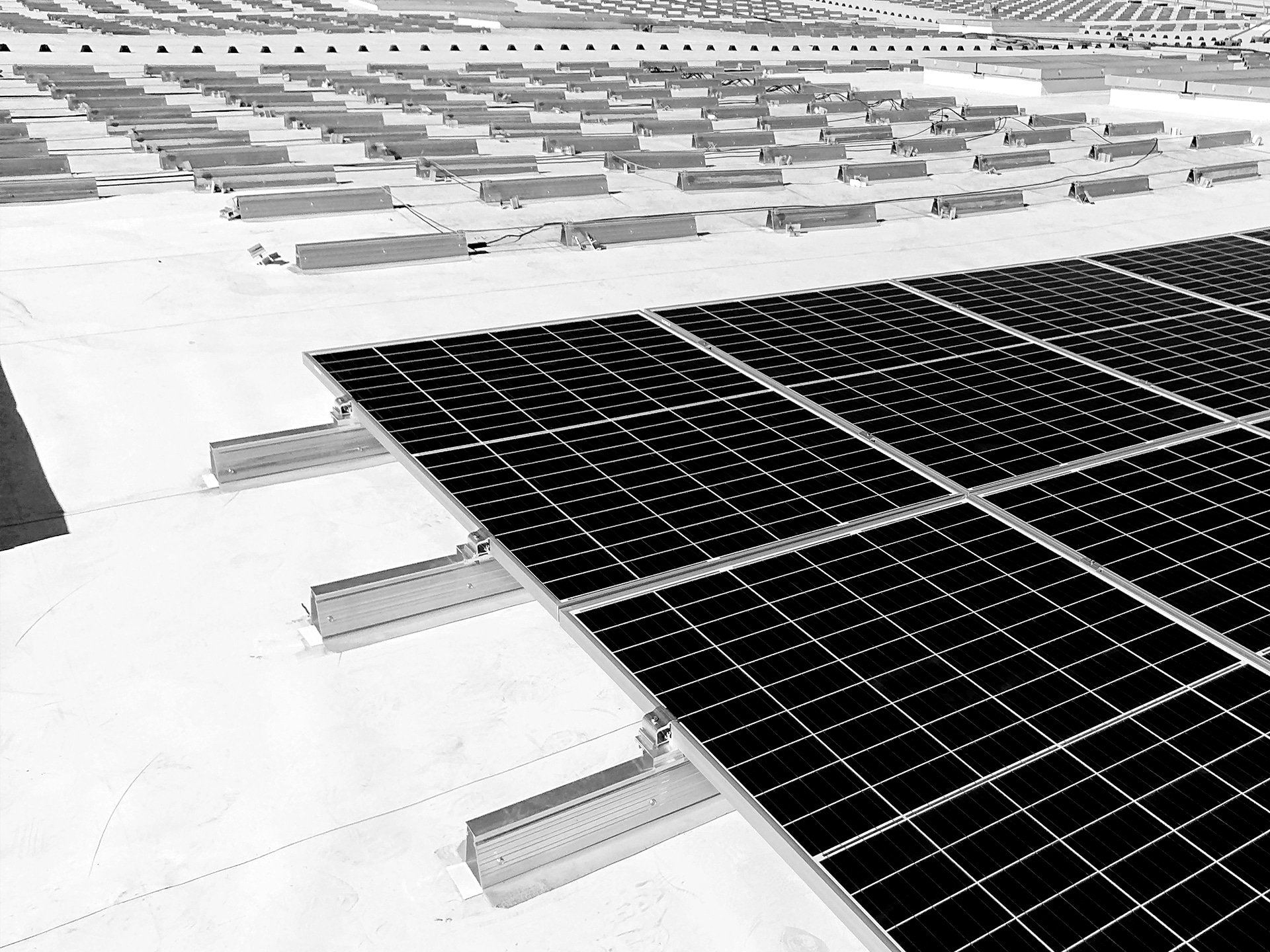 THE TPO MEMBRANE, A HUGE BENEFIT FOR ECOLOGICAL AND SUSTAINABLE FLAT ROOFS
The service life of a 1.8mm thick TPO membrane is several decades. Both in real life cases and in laboratory tests, TPO membranes retain their physical properties even after ageing.
TPO is extremely resistant to the negative effects of ozone, UV rays and fungus. Its light colour reflects the sun's rays. Therefore, flat roofs equipped with a TPO membrane store less heat. This solution can be used to counteract the heat island effect, particularly in urban areas.
TPO is free of plasticizers, halogenated flame retardants and all other toxic components. In fact, there is virtually no environmental impact during its manufacture or use.
A TPO membrane free of halogenated substances makes recycling easier, which is an important factor given recent collective environmental awareness.
Dome Solar Roof-Solar TPO and Roof-Solar Tilted TPO photovoltaic systems are certified by a New Technology Survey (Enquête de Technique Nouvelle – ETN).
The membrane is installed by mechanical fastening, i.e. strips are fixed using suitable screws and plates. Joints are then hot air welded. The upper and lower membranes then become one.
INSTALLING SOLAR PANELS ON A TPO FLAT ROOF
Rails of Roof-Solar TPO and Roof-Solar Tilted TPO photovoltaic mounting are hot air welded (read more about the steps here) to the TPO membrane manually or in a semi-automated way. Once External Clamps and then Universal Clamps have been clipped on, photovoltaic panels can be installed. Due to the heat-welding technique, no ballast needs to be added to the building's roof, which reduces the weight. Moreover, membrane perforation is not required so there is no risk of water leaking in.
PHOTOVOLTAIC MOUNTING FOR TPO FLAT ROOFS
ROOF-SOLAR TPO
The Roof-Solar TPO photovoltaic mounting on synthetic waterproofing membrane.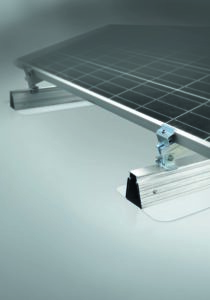 ROOF-SOLAR TILTED TPO
The Roof-Solar Tilted TPO photovoltaic mounting on synthetic waterproofing membrane.