PVC flat roofs have a considerable advantage: the lightness of the material means easy and safe installation.
PHOTOVOLTAIC MOUNTINGS FOR PVC FLAT ROOFS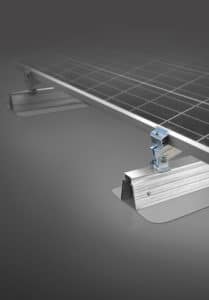 The Roof-Solar Tilted PVC photovoltaic mounting on PVC synthetic waterproofing membrane.
THE PVC MEMBRANE: RELIABLE AND RESISTANT OVER TIME
Easy to install
Roof overloads are reduced thanks to the weight of the PVC membrane: less than 2 kg/m². It is approximately four times lighter than multi-layer solutions. Due to the flameless hot air welding technique, there is less risks of burns and fires on the site.
Excellent resistance to bad weather
The composition of a PVC membrane is such that it has excellent weather resistance (salt aggressiveness, frost). It is also rotproof so damage from insects and pests is reduced. Bacteria development is almost non-existent. This material is also very resistant to tearing.
Dome Solar Roof-Solar PVC and Roof-Solar Tilted PVC photovoltaic systems are certified by a New Technology Survey (Enquête de Technique Nouvelle – ETN). Roof-Solar PVC also has a Broof (t3) fire resistance rating.
The membrane is installed by mechanical fastening, i.e. waterproofing sheets are fixed using suitable screws and plates.
INSTALLING SOLAR PANELS ON A PVC FLAT ROOF
Rails of Roof-Solar PVC and Roof-Solar Tilted PVC photovoltaic mountings are hot air welded (read more about the steps here) to the PVC membrane either manually or in a semi-automated way. Once External Clamps and then Universal Clamps have been clipped on, photovoltaic panels can be installed. Due to the heat-welding technique, no ballast needs to be added to the building's roof, which reduces the weight. Moreover, membrane perforation is not required so there is no risk of water leaking in.